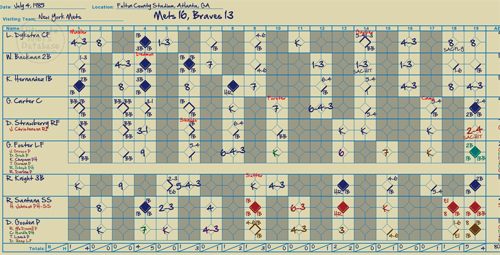 7/4/85: The Greatest Baseball Game Ever Played
You'd think as a Yankees fan my favorite Fourth of July baseball memory would be Dave Righetti's no-hitter in 1983. And it was. For two years. Until a Mets game took over the crown. Yes, the New York Mets.
July 4, 1985. New York Mets at Atlanta Braves. The greatest baseball game ever played.
Back in the 80s I was a huge Braves fan. Even though I loved my Yankees, I had a soft spot for the National League and a permanent place in my heart for Dale Murphy. That whole Braves team was a joy to watch. Horner, Hubbard, Ramirez, Camp (we are not going to talk about Len Barker). They weren't a good team. But they were a fun team. 
My parents had a television in the backyard, expressly for the purpose of watching baseball games. On this particular Fourth of July, the Mets-Braves game took precedence and a bunch of us gathered in front of the tv with our beer and hot dogs to watch the game, which started late due to a rain delay.
The first seven innings or so were unremarkable, save for the field being waterlogged which made for some slip-n-slide action in the outfield which resulted in at least one Mets run. 
It was 7-4 Mets headed into the 8th. 
Let's note here that the 1985 New York Mets at the time were my most hated sports team ever (that lasted until the 1986 Mets, who remain Number One Sports Enemy). I loathed everyone on that team. Gary Carter. Lenny Dykstra. Keith Hernandez. I didn't want to sit around with a bunch of drunk Mets fans watching them beat my team. 
My man Dale Murphy came through in the bottom of the 8th with a three run double and the Braves took an 8-7 lead.
Thanks to two rain delays, it was close to midnight when the ninth inning started. There weren't a lot of fans left in Fulton County Stadium, most of them assuming the after-game fireworks they showed up for weren't going to happen. The Mets tied the game up and as we headed into extra innings, I think there were about 200 people left in the stands.
After three scoreless innings, we sent someone out for a beer run at the end of the 13th. When the Mets went ahead 10-8 and the Braves came right back to tie it up, we sent someone else out for a Taco Bell run. By this time, my parents were in bed, the party cleaned up and a just a few of us were left huddled around the television in the backyard. 
A few more scoreless innings passed. Darryl Strawberry and manager Davey Johnson were thrown out of the game for arguing a call. At 3am. Umpire Terry Tata would later tell a reporter "At three o'clock in the morning, there are no bad calls."
It was getting close to morning. There were five people left in our group. There were about as many left in Atlanta. The players were weary, the field was a mess and at that point I didn't even care who won. This was a game for the ages. Everyone would be talking about it for weeks and I'd be able to say I stayed up for the whole thing. 
Bottom of the 18th inning. 11-10 Mets. Two outs, nobody on and Atlanta was down to their last available man. Pitcher Rick Camp. This was it. I was sure the game was over. Rick Camp? How the hell was a pitcher going to tie this game up?
By hitting the only home run of his entire career. That's how. I let out a triumphant shout of near-victory that woke my parents. My father dragged his ass outside to see what was going on. "Holy shit, this game is still on?" He sat down with us to watch history unfold. 
We were going into the 19th inning. It was almost morning. The cameras panned the stadium and we applauded the people who were still there eight hours after the game was supposed to start. 
The game's current hero, Rick Camp, came out to pitch. Unfortunately, his heroics didn't last and the Mets took a 16-11 lead into the bottom of the 19th. 
Mets starter Ron Darling came out to pitch at close to 4:00 am. Suddenly it was 16-13 with the tying run at the plate. 
Rick Camp.
Could he do it again? Could this pitcher who was batting .60 before the game started pull of another hero moment? At the 1-2 count we all held our breath. 
Strike three. Game over. 4:00 am. 
Fireworks went off over Fulton County Stadium, as promised. 
Everyone, even the Braves themselves, even the few of us still watching the game in my parents' backyard applauded. I'd like to say that the effort put out by both teams in the game meant there were no losers, but the Braves would probably beg to differ.
And that was the greatest baseball game ever played.
ed note: this was 26 years ago. my memories might be hazy, but mostly accurate.
[image:Â part of the game's scorecard]
Baseball