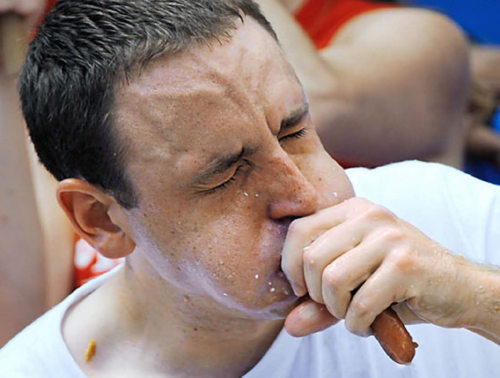 Joey Chestnut Wins his Fifth Mustard Belt
On a day that many of our misguided readers will turn their attention to a bunch of dope addicts riding bicycles in France, of all places, we turn our eyes to the most American of all sports, save baseball; competitive eating. 
Today, our Independence Day, American icon Joey Chestnut ate 62 hot dogs in 10 minutes to win his 5th Nathan's Hot Dog Eating Contest in a row. Did I mention it was 95 degrees?
So as you gather around your picnic tables this afternoon to celebrate what it means to be American, and you spot your fat nephew George gorging himself on tubular processed pork anus and cherry Kool-Aid try not to give the kid a dirty look. 
That fat little bastard could be our next great American athlete.
Eating