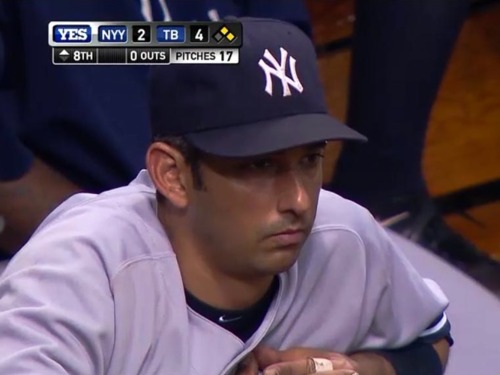 Jorge Posada, Winding Down
Last night. The Yankees are down 4-2 against the Rays in the top of the 8th. Left-hander Cesar Ramos is on the mound. Robinson Cano leads off with a broken-bat bloop single to center. Nick Swisher follows with a walk. Due up next: Jorge Posada. 16-year veteran. Five-time All-Star. Four-time World Series champion.
Now, though, he's a designated hitter with an OPS of just .695 and only 29 RBIs in mid-July. A 39-year-old batting .224, and more to the point, hitting just .120 against lefties this season. A slow runner who increasingly hits ground balls.
And so instead of walking from the on-deck circle to the batter's box, he gets called back to the dugout, to watch Andruw Jones pinch-hit for him.
Posada's face says it all.
Baseball