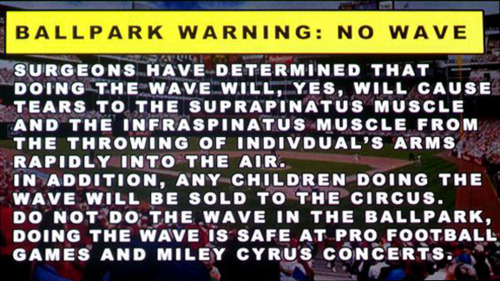 The Texas Rangers Want You To Sit Your Ass Down
The Texas Rangers have officially taken a stance against The Wave. Sure, it's a sarcastic kind of stance and you can't really be sure if they mean it or not (I mean, are they really going to sell your children to the circus? Because if they are I know a lot of people who will take their kids to a game and force them to do the wave) but it's been put out there and I, for one, welcome our anti-wave overlords.
I've always been anti-wave. I'm not as hardcore about my wave hatred as this guy Greg who has single-handedly made this sentiment into a movement, but I really do hate it.
I don't like being told what to do and when to do it when I'm at any kind of gathering. It's why I don't do the Cha Cha Slide at weddings. It's one of the reasons I stopped going to church. Kneel. Sit. Stand. Kneel. Sit. Clap your hands. Right foot stomp. So I don't want to be sitting at a baseball game enjoying my peanuts and Cracker Jacks and Yankee dominance to have it all be uninterrupted by everyone in my section suddenly standing up and raising their hands in the air like they just don't care. I won't stand up. I won't do it. 
It's not cheering. It's not rooting your team on. It happens at random times and is not tied into any part of the game. It happens when a double play is being turned and you end missing a pivotal piece of action because the row of doofuses in front of you have stood up in unison to shout "WOOO!" as the play occurred. It starts in one section when there's a couple of balls being fouled off at the plate and by the time it gets to your section A-Rod has just let an easy grounder get away from him and he's probably standing there chagrined, wondering why everyone in section 248 is standing up and waving their arms when he just made an error. 
The wave is stupid. It's a dumb exercise in group think and has as much place at a baseball game as skimpily clad "ice dancers" have at hockey games. 
I applaud the Texas Rangers and their sly attempt to tell everyone to sit their asses down and pay attention to the game. 
Baseball