Let's Talk About Mariano Rivera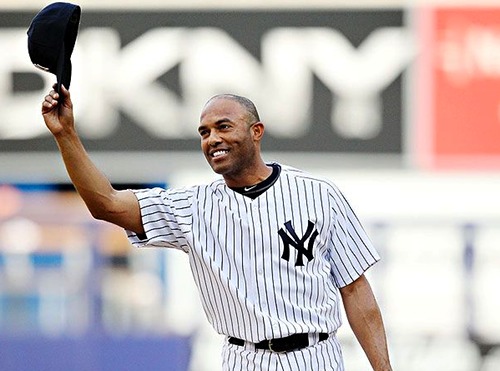 Jayson Stark on Mariano Rivera's career numbers:
Among all the pitchers who ever worked more than 1,000 innings in the big leagues — and there have been more than 1,100 of them — you know how many other men have had a lifetime WHIP of 1.00 or lower? Exactly two.

One was Addie Joss (0.97). He threw his last pitch in 1910.

The other was Big Ed Walsh (0.9996). He packed it in back in 1917.

In other words, this was achieved once by two guys who pitched, like, a century ago. And then NOBODY else did it — until Mariano Rivera came along.
There's simply no argument that he's the greatest relief pitcher of all time. The argument is whether he's the greatest pitcher, period, in modern baseball. I know there are some fans who say a reliever, no matter how great, can never outrank or be more important than a great starter. And it's true that a closer like Rivera doesn't pitch nearly as many innings during a season as a healthy starter does. But every single inning a closer pitches is an inning where the game is on the line. And a closer is a potential factor in every single game. Starters play only every fourth or fifth game — in the postseason, in rare cases, every third. The closer is ever-present.
No pitcher is unbeatable, even Rivera, but he's as close to unbeatable as it gets. I'm open to the argument that in any given season, no closer is as important to a team as an all-star caliber starter. But we're looking back at Rivera's career here, not this or any other single season. For 15 years, both the Yankees and their opponents have played under the belief that the other team needs to score enough runs to win the game in the first eight innings. And the year before he become the Yankees closer, he was, if anything, even more devastating as their setup man for John Wetteland. That's 16 years of consistent, reliable, excellence. Not one bum season. No slumps. No significant injuries. He's 41 years old and his ERA this season is lower than his career average.
Rivera's postseason stats make his regular season stats look bad. They seem impossible: 139.2 innings, 0.71 ERA, 0.766 WHIP, 109 strikeouts, 2 home runs. He's recorded the final out of the World Series four times. Here's Stark on Rivera's postseason numbers:
In 15 trips to the postseason, Rivera has held the best hitters on the best teams on earth, in the most important games of his career, to this remarkable slash line: .176/.213/.229. When we went searching for any active hitter who hits like that, you know who we came up with? Zach Duke (.176/.205/.217). Yeah, he's a pitcher. When we confined that search only to active position players, we got Drew Butera (.172/.209/.252). In other words, when the Yankees have sent this man to the mound in October, he's turned EVERY hitter he's faced into the equivalent of a good-fielding, light-hitting back-up catcher, or a pitcher with a half-decent clue about what that piece of ash is used for. Unreal.
Consider even Rivera's worst moment: his blown save in game 7 of the 2001 World Series against the Diamondbacks. It hurt to watch, but there was no need for post-game handwringing or second-guessing.[1] The Diamondbacks scored against the best, what are you going to do?
If you want to argue that other pitchers have been better overall during the modern era, I'll hear you out. Koufax certainly. Gibson, Carlton, Maddux, Clemens, Johnson. But when I hear that argument that Rivera doesn't even deserve to be considered, simply because he's not a starter, I think this: let me ask you again, when your favorite team holds a one-run lead heading into the 9th inning of the clinching game of the World Series.
(Photo: Debby Wong/US Presswire)
---
Well, you can second-guess Joe Torre's decision to play the infield in, with one out, a tie score, and runners on first and third. Play the infield back, you might get a double-play, play them in, you might cut the run off at home on a ground ball. What happened is that Luis Gonzalez hit a broken-bat blooper over Jeter. He'd almost certainly have caught it if the infield hadn't been moved in. Torre himself admits regretting the decision. But here's the thing: whatever regrets Yankeess fans might have about that inning, they have nothing to do with who should have been on the mound. Rivera entered that game with 30 consecutive postseason shutout innings. †©
Baseball