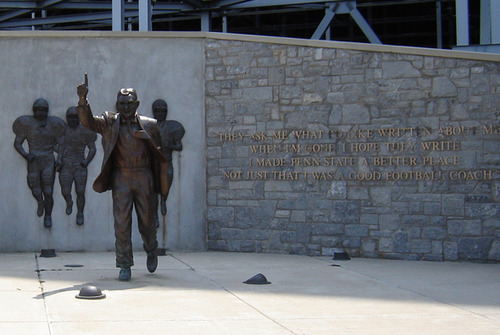 Dear Joe Paterno's Statue
This is the quote beside the Joe Paterno statue at Penn State:
"They ask me what I'd like written about me when I'm gone. I hope they write I made Penn State a better place, not just that I was a good football coach."
Well, you kind of wrote your own history, Joe. It could have been a different story. It could have been one of accolades and praise, one about your wins, your championships, your role as not only coach but father-figure to the entire university. They would have said grand things about you, Joe. You would have been written about as nothing but a legend, a god among men. A good man.
But that's all changed. And it changed in one instant, in one singular moment in 2002 when circumstances called for you to fulfill a moral obligation to not only a ten year old boy but society at large and you failed to fulfill that obligation. It changed when you did the bare minimum thing instead of the right and honorable thing.
Everyone is talking about tarnished images. There are some saying the board has tarnished your image by firing you. Some are saying the media has tarnished your status. But make no mistake. This was your doing.
They could have written amazing things about you, Joe. Maybe they would write about how you made Penn State a better place. And maybe you did do that, for a while. But as we watch students riot on campus on your behalf, defending your inaction and putting the blame for your firing on everyone but you, I'm guessing that train has left the station. This is what we will remember. This is what they will write:
Joe Paterno was a good football coach. He was also a flawed man who made a terrible decision when it came to the protection of the sports program over the protection of a young boy's health and welfare and unfortunately that decision allowed a man very close to Joe Paterno to continue his abuse of children and that forever put a black mark on the name of Penn State University. But hey, we was a damn good football coach.
That's what they will write about you, Joe.
Nice statue, though.
Football