The unknowable human. (All of us.)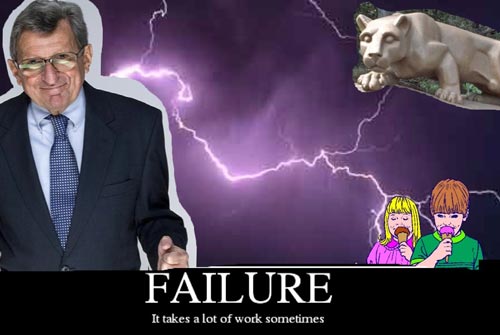 I have praised Sports Illustrated's Joe Posnanski before, and now I'll do it again. He is a fantastic writer, and his post from Sunday encompasses many of my feelings about the Penn State story.
(Tangent: SI refers to this on its homepage as the "Penn State Scandal." I heard a radio reporter refer to Sandusky's actions as a "sex scandal." Guys, a politician lying about something is a scandal. A politician lying about paying a prostitute is a sex scandal. The word "scandal" has been so devalued that it does not do this situation justice. And this is not a story about sex. Rape is not sex. Child molestation is not sex. This is a story about a serial predator harming children. Get it right.)
Anyway.
Posnanski, you see, is in the midst of months of research for a book he's going to write—a biography of Joe Paterno.
Yeah. That assignment's gotten a bit of a swerve in the past few days.
But the point of the biographer, the sportswriter, is this: People are unknowable. No biography can truly do justice to the contradictions inside every one of us. As Posnanski writes,
Good people do bad things, bad people do good things, happy people get lost, lost people become heroes. This is the wonderful and depressing and daunting challenge of writing about people. Things don't always make sense.
Posnanski's piece is called "Darkness," and what makes it brilliant is how he frames it. He talks about a high school football coach he used to cover, and thought he knew well. And one day the guy killed himself. And Posnanski couldn't figure out how he had no inkling about what was going on inside that person's mind.
We are all mysteries, perhaps even to ourselves. Nothing is simple. Jerry Sandusky fooled a lot of people. Joe Paterno is generally beloved and yet seems to have done a terrible thing and allowed a monster to roam free in Happy Valley, preying on children.
Or as Posnanski puts it:
This thing is so vile, so grotesque, that it is human nature to want everyone to pay. Innocent children were hurt, scarred, and as a parent this is something so horrible that I cannot even think of a penalty harsh enough. There is no way to see this thing clearly now, not for me, anyway.
Darkness.
Football