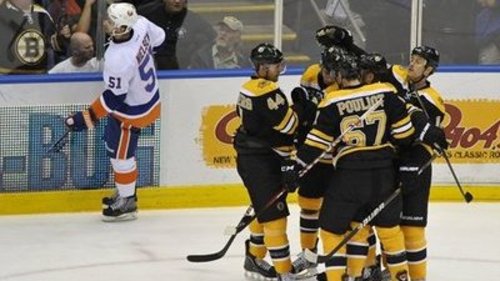 When the home team isn't the home team
I went to the Islanders game last night at the Nassau Coliseum. I thought it would be great night. They were playing the Stanley Cup Champion Bruins, it was Eddie Westfall night and the team had just come off a much needed win against the Canadiens. I expected a packed house, lots of noise, a good time.
I ended up being a stranger in my own home. The Coliseum was packed with Bruins fans. Everywhere I looked, black and yellow. Bruins jerseys, Bruins jackets, Bruins t-shirts. We went up to our seats (last row, a section away from Loudville) and were immediately swallowed up in the sea of Boston fans around us.
The "Let's go Bruins!" chants started early and when Patrice Bergeron scored the first of Boston's six goals at about seven minutes into the first period, the arena exploded in cheers.
I was mortified. It was an awful feeling, to be sitting in your own arena watching your local hockey team and the visiting team's fans have more of a presence than the home team fans. I expect this at Islander/Ranger games. That's a New York/New York game and there are thousands of Ranger fans living on the Island. But a Boston game? To be drowned out and overwhelmed by their fans felt disgraceful.
I love the Islanders. I've been an Isles fans since their inception. I've been with them through awful times and amazing times. Basement finishes and four Stanley Cups. Recently, I've stuck with them through the threat of the team moving. I campaigned for a new arena, I got people to go out and vote in a referendum to build a new Coliseum and keep the Islanders here. I shed tears at the thought of losing my team to Kansas City or Quebec or even Brooklyn.
Now? I don't care. Let them go. Long Island does not deserve a hockey team. Not even this losing team. If your team has so little support that the visiting club's fans outnumber your own fans, you don't deserve a team. If you can't get off your ass and get to a game against the Stanley Cup champions on a mild Saturday night in November when they are honoring a local legend, then don't cry to me about how the Islanders are going to leave Long Island.
There are reasons teams desert their cities. Lack of support is a big one. When people don't show for games, when there are empty seats or seats filled with the colors of the opposing team, when you don't give a crap that the arena is a crumbling embarrassment, that's when team owners start to seriously look at other options.
I wonder how the Islanders players felt last night when the Coliseum sounded like it might as well have been TD Garden. I wonder what it's like to be on your home ice and feel like a visiting team. The Islanders may not be a great team right now. They may not even be a good team. But they are a young, promising team and if the fans can't come out and show their support and give the team a little morale boost, then we might as well give up the hope that the Islanders will stay here right now.
I never thought I'd say this but, let them go. Let them go to a place that's starving for hockey. Let them go somewhere the fans will come out at night to cheer their team on. Long Island doesn't deserve an NHL team. Not even a 5-9 team.
[image from nesn.com]
Hockey