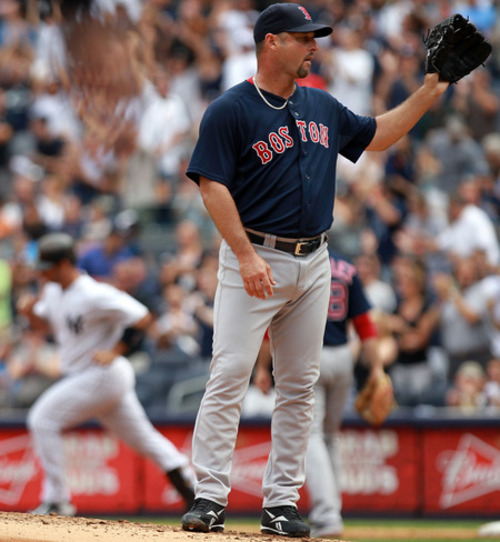 Pitcher and Catcher
Hats off to George Washington and Abe Lincoln, but today's real national holiday was Pitchers and Catchers Day. But I'm not all smiles this year. It's been a long time — we're talking Bill Clinton still in his first term — since last you could say "pitchers and catchers reported to spring training" and have that not include two great players: catcher Jorge Posada of the Yankees, and pitcher Tim Wakefield of the Red Sox.
That's right, I said Wakefield, a Red Sock (is that what you call one of those jerks in the singular?) was great. I'm feeling magnanimous.
The way I see it is this. He was a class act, a good guy, and a competitor who never shied from taking the mound in the clutch. His stats aren't great, but no Yankee fan liked seeing Wakefield on the mound. Yeah, yeah, Wakefield's the guy who gave up that home run to Aaron Boone. But more often than not, Wakefield did good work in tight spots. And if you want numbers, let me give you these two:
0: number of World Series championships the Red Sox won during the 77 years preceding Wakefield joining the squad in 1995.

2: number of World Series championships the Red Sox won during Wakefield's career.
I'm not saying Wakefield was the linchpin of the 2004 and 2007 teams. But he was there, right in the thick of it, and year in and year out he was a dependable part of the Boston rotation. And before he got there, the Red Sox were dependable in only one way: they'd figure out a way to lose. Wakefield wasn't like that. He always looked to me like a guy who expected to win.
Wakefield's two championship rings are a few less than Posada's five, but that's still two more rings than all the Red Sox from 1912-2004 combined. I can't help but suspect that many Red Sox fans have the same begrudging respect for Posada that I do for Wakefield. They're both How can you not like the guy? guys. How can you not love a knuckleballer? How can you not love a hitter who never wore batting gloves, no matter how wet or cold the weather?
Their careers more than just coincided; they were intertwined, right up until the end:
The last HR allowed by Wakefield was by Jorge Posada. It also was the last HR Posada hit. Now they're retired.

— Pete Abraham (@PeteAbe) February 18, 2012
Baseball