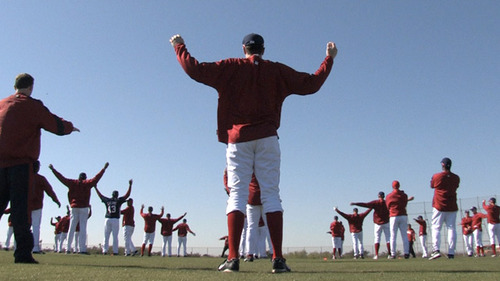 pitchers, catchers and the hope of spring
It's February. There's a light frost on the ground and a promise of snow this weekend. Some of my neighbors still have their Christmas lights up. Yet I wake up this morning with my thoughts on baseball, as if spring has already arrived.
The phrase "pitchers and catchers" has a way of confusing my brain into thinking winter is over. Even though the National Hockey League season is at its halfway point the first sign of spring training pushes me into baseball mode. It means it's not too early to start thinking about opening day, about warmer days and longer nights and the hope that your team's season will last well into October.
The arrival of pitchers and catchers sets off sonic, tactile memories; smells, sights and sounds that are entwined with both spring and baseball, memories that come from having spent more than 40 years (I won't say how many more than 40) as a fan of the sport. They are memories I store in a small compartment in my head and at the first mention of spring training that compartment bursts open and it's all there: the powdery feel of the gum in a new pack of baseball cards; warm spring breezes that smell like lilacs; Bob Sheppard's voice reverberating in my head (for some reason, he's always announcing Don Mattingly's name in these memories), the sound of the television in my parents' backyard echoing the call of a game into the neighborhood; the slow motion cadence of the game itself, signifying the laid back nights of summer.
Baseball season brings hope like no other. It's a long season. Anything can happen. At least that's what you tell yourself when your team starts off slow. April. May. June. So much time ahead of us and all that time is spent under the cover of warm weather and days free of snow and biting wind. Baseball season brings a freedom from the darkness of winter. It brings summer vacation and the promise of freedom and picnics and beach days. How can you not have hope when with the baseball season comes the release from winter's grip?
Sure, it's only February. There might still be snow ahead of us (heck, it snowed on Yankees opening day one year) and early darkness and the drudgery of sloshing through the rest of winter. But the mind works in mysterious ways. When I hear the words "pitchers and catchers" the fog of winter breaks and I'm ready to throw myself into baseball season. I want to hear the crack of the bat and yea, even Tim McCarver's voice. I want to watch Gruber and Monteiro go at it on twitter. I'm anxious to hear my father's taunts about the Yankees and give him back my good natured jabs about the Mets. I want it to be spring already, with warmer mornings and box scores and hot dogs and peanuts and Cracker Jacks.
In the season of pitchers and catchers, hope feels eternal. Spring feels like it's already here.
Play ball.
Baseball