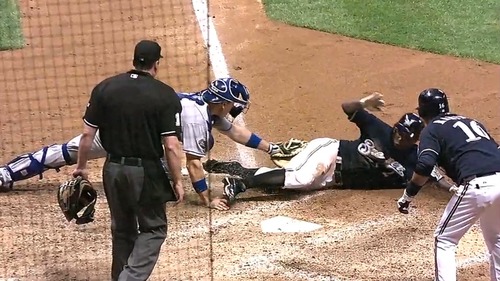 Matt Kemp Can Catch a Ball, but He Can't Catch a Break
Just so we're clear here: Ryan Braun — a player who should be serving a fifty game suspension — pops a weak sac fly into center field, where Matt Kemp snags it and instantly fires it home. The Brewer's third base coach gives Nyjer Morgan the hold sign — because he knows who actually deserved the NL MVP last season, and he's scared to death of him — but Morgan ignores him and goes for it. The throw arrives, the catch is made, the tag is easy and the umpire calls him…. safe?
Fucking safe?
Go and look at the picture at the top of this post. Safe?
But then maybe that's how they do things in Milwaukee, where they race wieners, inject testosterone, and play baseball indoors, like degenerates and perverts.
Baseball