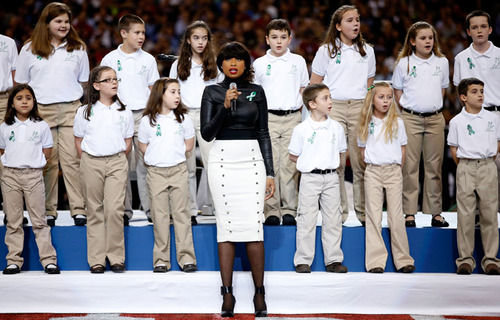 Are We the Super Bowl?
It's the day after the Super Bowl and thoughts turn to, well, the Super Bowl.
Before we get to the start of baseball writing season, before we talk about pitchers and catchers and even hockey scores, there is that thorny post-Super Bowl issue to be tackled in hundreds of papers across the world now. The titles of all the articles may be different but they all read the same: The Super Bowl Represents America's Penchant For Violence, Excess and Material Things.
Ok, so we have a violent game with an excessive halftime show, cushioned by a plethora of advertisements for expensive cars and junk food. But does that represent us? Does Super Bowl Sunday really define what we are all about or does it define something more, perhaps our need to escape into a world where the entertainment value is at premium?
For sports fans like us - the kind who talk about, read about it, write about it but aren't rabid about it - the idea that this one day of the year and the pageantry that comes with it defines who we are is sort of a ludicrous notion. While football is inherently a violent game, it's not the violence most of us are watching for. We're in it for the plays, for watching the running and passing, for the strategy and sense of competition. We like it because it entertains, with or without the punishing hits.
It's the same with the ads. I don't think there are many of us who spend non-Super Bowl days studiously watching commercials. But on this one day, those ads are entertainment. They're not just advertisements, they are parts of a whole; Super Bowl Sunday is part game, part food, part show, all entertainment.
I used to argue that major events like the Super Bowl were our means of escape, but exactly what have we escaped by watching last night's game?
We have an inherently violent sport maligned with sordid stories of suicide, murder and an administration at least guilty of depraved indiffirence when it comes to the topic of concussions. We have, in this time of economic worries, commercials selling us expensive cars, ads that we eat up as part of the entertainment aspect of the Super Bowl. The violence, the game, the ads, the halftime show, all sums of the part of the whole. And what is the whole telling us when it starts out with something so beatific as the choir of a middle school still mourning the death of 26 of its children singing praise to the country that fails to protect their innocent?
But we forget these things for a while. Maybe, in our attempts to escape life, we immerse ourselves in a game and see it as just that, a game. Nothing more. The ads nothing more than fodder for tweets and water cooler laughter, the halftime show nothing more than a brief interlude of song and dance.
And then when the final moment count down and we're left to watch the victors dance on a field confetti, when the ads are no longer new and the halftime entertainment has left the building, we go back to remembering Ray Lewis is allegedly complicit in a murder and Chris Culliver is a homophobic idiot. We go back to remembering that those angelic, singing kids are part of a horrific chapter in our violent history.
But for that brief time the game is being played, the dancers are on stage and Go Daddy is making us all barf, there's a game. Just a game. A couple of hours of cheering, whether it's for a team or the numbers you drew in the office pool. That defines us more than anything else about this yearly extravaganza. We crave the escape.
Is the Super Bowl us? No, not really. Those articles that say such a thing are using too broad a scope in figuring out what we, the sporting fans of America, stand for.
Maybe we don't stand for anything, as far as the Super Bowl goes. Maybe a game is just a game and a chorus of kids is just another sweet moment in the pageantry of escapist sporting events.
Football